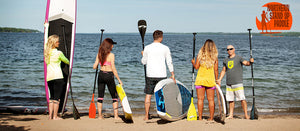 Intro to Paddleboarding - Barrie/Kempenfelt Bay
Regular price $50.00 Sale
So you want to see what all the fuss is about with the fast growing sport of stand up paddling?  Or maybe you have already done an intro class and just want to get out on the water in beautiful Barrie, Ontario on Kempenfelt By.  We have the class for you.
Every class includes:
• Equipment • P.F.D. (personal flotation device)      
• Water Safety Instruction 
• On-land Instruction 
• Water Instruction 
• Free Play
Our introductory class will focus on introducing you to the sport of stand up paddling (SUP) in a fun and safe manner. We will teach you the fundamentals as well as proper safety and this will be the foundation for your future paddling endeavors. You will need to be comfortable in the water and able to swim. You do not need to have any prior paddling experience to take this class.
When?
Thursdays 6:00 – 7:00pm & Saturday 9:00 – 10:00am – S
tarting June 29!!